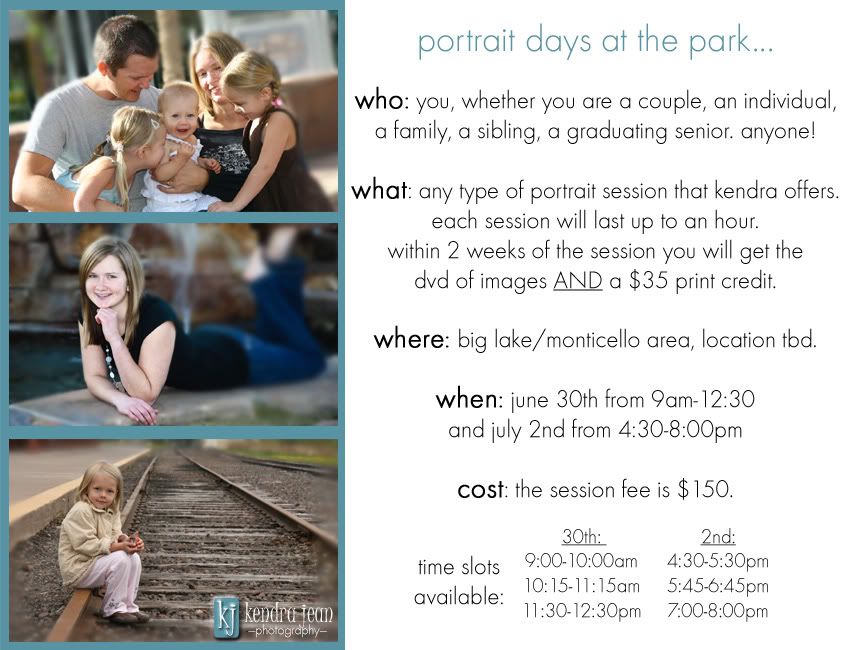 For all of you that are in Big Lake or Monticello, Minnesota (or surrounding areas) this is for you! I am so excited that I will be down in that area for a short time at the end of June! I have had a few people interested in a photo shoot. So this is the perfect way to get you in, in one trip! I have 6 slots open right now. and I am going to do 2 days, one in the morning and one in the afternoon, to work better around your schedules.

I haven't decided on a park as of now, but I will hopefully by the end of the week. I am going to try for a park that is near downtown or some old buildings. So, it is going to be a blast and what a perfect time to get some updated portraits on your wall! If you are interested shoot me an email at info@kendrajeanphotography.com Also, by doing your shoot during these two days, I am giving you an added bonus with the $35 print credit. With that, there is 3 print packages that you can choose from, or mix and match your own!

So email me soon, because with only 6 slots open for those 2 days, they will fill up fast! I can't wait to see some friends again and get some fun photo shoots in!!